Credit cards, Debit Cards, PrePaid Cards
We accept, credit, debit and prepaid cards from Visa, MasterCard, Maestro, American Express, Diners. that are issued by any bank.
Our website uses Security protocol for all the transactions via credit cards. When you select to pay via credit card you instantly be transferred on a safe environment that "Alpha e-Commerce" from Alpha Bank offers. You can define that you are in this environment by noticing the https in front of your page domain name. In this environment all your personal data are encrypted for safety reasons. When you abandon this page all your data is instantly delete from our data base.
All card payments are processed through Alpha Bank's Alpha e-Commerce electronic payment platform and uses TLS 1.2 encryption with Secure Sockets Layer (SSL) encryption protocol. Encryption is a way to encode the information until it reaches its intended recipient, which will be able to decode it using the appropriate key.
Όλες οι πληρωμές που πραγματοποιούνται με χρήση κάρτας διεκπεραιώνονται μέσω της πλατφόρμας ηλεκτρονικών πληρωμών "Alpha e-Commerce" της Alpha Bank και χρησιμοποιεί κρυπτογράφηση TLS 1.2 με πρωτόκολλο κρυπτογράφησης 128-bit (Secure Sockets Layer – SSL). Η κρυπτογράφηση είναι ένας τρόπος κωδικοποίησης της πληροφορίας μέχρι αυτή να φτάσει στον ορισμένο αποδέκτη της, ο οποίος θα μπορέσει να την αποκωδικοποιήσει με χρήση του κατάλληλου κλειδιού.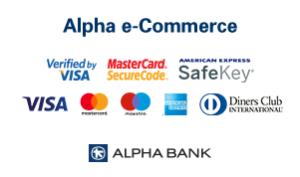 Use of MasterPass (wallet)
You can pay through your wallet you have with Masterpass. An easy way to handle all your payments.
With deposit (transfer amount) to a bank account 
CANAVES OIA SA
ALPHA BANK – Greece
IBAN: GR5001406230623002320002183
BIC / Swift: CRBAGRAA
We must point out that on interbank transactions (when the bank depositor is different from that of the recipient) they may be applied additional fees. These commissions are charged to the Customer.